Lead-organizer: United Nations Research Institute for Social Development (UNRISD)
19:00 - 20:30
Date: 21 Jun 2012
Room: T-9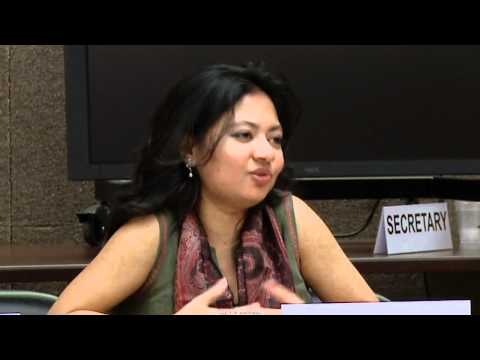 Integrating the social dimensions of green economy into policy
Organizing partners
International Social Science Council (ISSC); United Nations Research Institute for Social Development (UNRISD); UNESCO.
Introduction
The preparatory process for Rio+20 has called for renewed attention to the social dimensions of development, however green economy and sustainable development debates have largely been dominated by economic and environmental concerns. This side event brings together policy-relevant lessons from recent research by UNRISD, UNESCO and ISSC, and focuses on the existing gaps and barriers that need to be overcome in order for the social dimensions of green economy to be better integrated into green economy decision-making. We outline what a ?social lens? on green economy might look like, pointing to the key role for social policy in addressing negative social impacts of transition, institutional change, and achieving policy coherence. These social dimensions are not add-ons to economic or environmental concerns, but underpin the process of structural transformation required to move towards development policies that are inclusive, equitable and sustainable. Finally, we highlight directions for future research in this area.
Detailed programme
To date, green economy and sustainable development debates have been dominated by environmental and economic concerns, while social issues have consistently received least attention. There is as yet little consensus on how the social dimensions of green economy should be defined and addressed; what mix of social, economic and environmental policies are required; nor about what kinds of institutional and participatory processes are best.
In policy discussions, social dimensions of green economy are often addressed quite narrowly in terms of green jobs, incentives for green consumerism, and the kinds of education/retraining, social protection safety-nets and social dialogue required to facilitate the transition. At the same time, we see a great deal of technical emphasis on decoupling economic growth from carbon emissions, via green technologies, green financing and the greening of markets (such as PES, REDD etc.) ? or ?green growth?. Currently, policies that address social dimensions tend to focus, first, on issues of protection and compensation of those negatively affected by certain processes of change, and second, on attaining co-benefits between the three spheres of sustainable development. But these may not go far enough towards transforming the fundamental structural inequalities and political inconsistencies at the centre of current global crises, poverty and unsustainable development.
In this side event, we discuss how policy-makers can move towards understanding the social ?cornerstones? of sustainable development, and thus to a more ?social? perspective on green economy. The economy is not separate from society, but is part of it and should contribute to build green inclusive societies. A social lens on the green economy is therefore required that enables a broad range of stakeholders (governments, the UN system, academics, businesses, civil society, communities, the media) to more effectively evaluate the impacts, potentials and pitfalls of these approaches currently being advocated within a green economy framework. This will assist in finding innovative, alternative solutions to the interrelated problems of poverty, inequality, exclusion, environmental pressures, and economic growth. The economic, environmental and social pillars of sustainable development need to be approached in an equal, complementary and integrated manner to respond to urgent challenges in ways conducive to a culture of peace and sustainability.
This panel first presents key findings drawn from the UNRISD conference held in October 2011, ?Green Economy and Sustainable Development: Bringing back the social dimension?. Speakers from ISSC and UNESCO then present a synthesis of directions for future policy research, followed by open discussion.
Chair: Sarah Cook, Director, UNRISD
Part 1: Defining the social dimensions of green economy
1. Peter Utting, Deputy Director, UNRISD. This overview outlines the main policy gaps existing in current approaches to green economy, specifically related to the social dimensions, and presents the key components of taking the social dimensions seriously in future policy. Examples are presented from research into PES/REDD+, food security and agriculture, energy, and green jobs.
2. Bina Agarwal, President of the International Society for Ecological Economics (tbc). This presentation will highlight the importance of gender dimensions of green economy and women?s inclusion in environmental governance, with particular attention to the experience of India.
3. Laura Rival, University of Oxford. Drawing on research in Ecuador and Brazil, this presentation will discuss innovations in policy integration that have led to improved coherence between local needs for sustainable development and government policies related to REDD+ and PES, and how different actors have experienced the benefits or disadvantages of such processes.
Part 2: Key issues for policy research
4. Representatives from ISSC (Olive Shisana, President) and UNESCO (Maria del Pilar Alvarez-Laso, Assistant Director-General for Social and Human Sciences) will reflect on key research gaps and issues for policy-applied research in the future.
Rio+20 presents a much needed opportunity to deepen the international community?s policy response to the challenges of sustainable development outlined at the first Earth Summit in Rio in 1992. This discussion contributes directly to ongoing going debates around a post-MDG agenda, and specifically to the project to construct ?Sustainable Development Goals? as a key outcome of Rio+20. As governments, social actors and experts deliberate on how to connect green economy and social dimensions of development, this event will provide both conceptual and empirical evidence to enable policy-makers to better integrate social concerns across policy areas.